Golden Career Opportunity for Women in Cybersecurity Industry!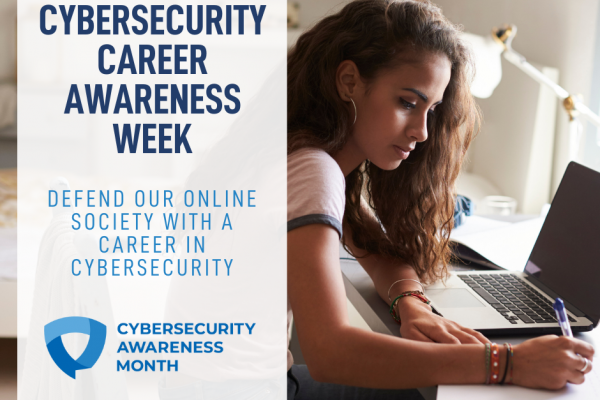 There are about 3.2 million unfilled jobs in the cybersecurity industry globally and about 464,420 jobs (cyberseek.org) in the US alone. However, women constitute only a tiny fraction of this massive talent crunch. There is a huge push by both business and education sectors to attract individuals toward a degree and career in Cybersecurity.
Women in Cybersecurity

It is estimated that women make up between 20-24 percent of the cybersecurity workforce (Source: Cybersecurity Ventures; (ISC)2). Having more women in cybersecurity would help boost the industry and fill the drastic need that companies have for top talent.
Diversity can provide benefits in most industries, but it is especially important in cybersecurity to help bring different perspectives to the table while dealing with bad actors. Cybersecurity career skills are not just technical but broader in nature. It requires multi-tasking and multi-dimensional skill to connect the dots across wide gamut of areas such as data analysis, problem solving, creativity, flexibility, adaptability, and diligence at which women are exceptionally good.

Interested in joining this exciting new opportunity? One way to get ahead in this race is via apprenticeships.
Women Cybersecurity apprenticeships programs

Apprenticeships are high quality career pathways where individuals can obtain paid relevant work experience, classroom instruction, and a portable nationally recognized credential that employers desire.

ApprenticePath has created a curated repository of cybersecurity apprenticeship programs for easy search and apply. We are adding more daily! We are enthusiastic about raising awareness about pathways to prepare a highly skilled and diverse workforce for careers in cybersecurity to include expansion of knowledge and application of the NICE Framework.

If you are a female veteran, check out this exclusive apprenticeship program https://apprenticepath.com/program. Your military experience will be the right fit for cybersecurity careers.

ApprenticePath.com is an inclusive community with the mission to connect US apprenticeship seekers to industry programs. Our ecosystem comprises - career seekers, students, parents, counsellors, women returnees, industry bodies and companies that offer apprenticeship programs in the USA.

Here are a few resources and organizations to help you explore cybersecurity scholarships and careers.

(ISC)² Women's Cybersecurity Scholarships
Scholarships to inspire women to join the ever-growing field of Information Security. Up to ten scholarships will be awarded. Each scholarship award will be between $1,000 – $6,000.
Applications will open Nov. 15, 2021, and close February 28, 2022. Award/No Award notifications will be emailed June 2022.

You may also wish to apply for the KnowBe4 Women in Cybersecurity Scholarship, (ISC)² Graduate Cybersecurity Scholarship, or (ISC)² Undergraduate Cybersecurity Scholarship, which are open to both women and men.
https://iamcybersafe.org/s/womens-scholarships
KNOWBE4 WOMEN IN CYBERSECURITY SCHOLARSHIP

in conjunction with (ISC)2 Women's Scholarships and administered by the center for Cyber Safety and Education. The next application period will open November 2021 and close February. 28, 2022 at 11:59 PM EST. Recipient will be notified by April 30, 2022. The recipient of the KnowBe4 Women's Scholarship will receive: A $10,000 Scholarship to be applied to tuition, fees, books, required electronics and up to $3,000 may be applied to on-campus housing. Award may be used for Fall, Spring or Summer Semesters.
https://www.knowbe4.com/careers/scholarships

SANS Women's Immersion Academy

The (SANS) Institute is a world-renowned provider of information security research, training, and certification. It created various "CyberTalent Immersion Academies" to kickstart participants' cybersecurity careers while helping to close the skills gap in the cybersecurity industry. As its name suggests, the Women's Immersion Academy is designed exclusively for women.
https://www.sans.org/about/academies/womens-academy/

OWASP Women in AppSec (WIA)

The Open Web Application Security Project (OWASP) is a not-for-profit organization that focuses on improving software security. The Women in AppSec (WIA) is a division of OWASP that is dedicated to women in application security.
https://owasp.org/www-committee-wia/

Your ApprenticePath.com team!

---
Posted
11 months ago
by
admin
Comments
No comments yet! Why don't you be the first?
Add a comment